Online invoicing is a popular time-saver for both companies and customers. Merchants don't have to print out a paper-based invoice, locate the customer's physical address, and send it out into the void. Customers don't have to keep a close watch on their mail room, route the invoice to the correct employees for approval, and go through the time-consuming steps of manual payment. Instead, an electronic invoice goes directly from the merchant's Accounts Receivable department to the customer's Accounts Payable department, where it can be processed and paid at their convenience.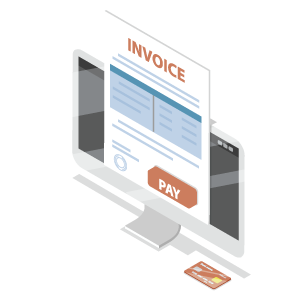 Of course, online invoicing in its traditional form comes with a few drawbacks. When the invoice is paid, the records aren't tied to the rest of the transaction. That means the fulfillment team doesn't know that the payment has been processed and the order should be shipped; similarly, the seller's accounting team will have to hunt down their transaction records from a separate online invoicing system.
At Curbstone, we've developed a better (read: fully integrated) approach to online invoicing.
Meet UPL: URL Payment Links
URL payment links give customers a convenient way to pay for their products or services. They're accessible 24 hours a day, 7 days a week, from any device with an internet connection – even a smartphone or tablet.
Delivered via email or text message, these links include a pre-populated landing page with their transaction details, such as the total amount due, the payment term, and the due date. (You can professionally brand the landing page with your logo and colors to reassure your customers that the invoice came directly from your company.) The customer clicks the link and enters their credit or debit card information; Curbstone's portal takes care of the rest.
Once the payment is made, the records are tied back to your other business systems, such as your ERP or a stand-alone order entry application. This helps you keep all your transaction data in one place. (This also makes UPL a better fit for large businesses, where most other online invoicing software is designed for freelancers and small businesses with less stringent record-keeping requirements.)
Online Invoicing That's Built with Security in Mind
Any time credit card data is involved, security has to be tight. As a PCI-Validated Level 1 Service Provider, we've built all of our payment processing technologies with security and compliance in mind. Not only do we use remote tokenization, encryption, and other industry-leading security measures to keep your customers' data safe, but we also keep it off your own system. That means even lower risk and even fewer PCI compliance requirements for your IT team.
Get Started with Text- and Email-Based Online Invoicing
Interested in learning more about integrated online invoicing with Curbstone? Contact us today and we'll be happy to introduce you to our convenient, secure payment processing solutions.